Basic vs Pro
Stocklabs Basic allows you to use all the features that carried over from the legacy EXODUS platform including all market & stock data, Screener, Watchlist & Portfolio (up to 5) tracking, access to Newswire, & Chat, among others. Upgrading to Stocklabs Pro adds another layer of functionality by providing access to all of the newer features that make Stocklabs even more powerful, such as volume tools (VSA / Volume Delta), Live screens, Real Time Intelligence, & unlimited Watchlists / Portfolios.
Live Screens
In the Screener window, you will notice a toggle in the top right labled Live. Enabling this feature will cause the screen to update in real time straight in the window with no refreshing. New stocks that appear in the screen will be highlighted in blue for a time. Stocks that are moving up or down the list based on whatever criteria you are using will be marked with green (up) or red (down) arrows. This feature brings your screens to life & keeps you at the forefront of stock movements.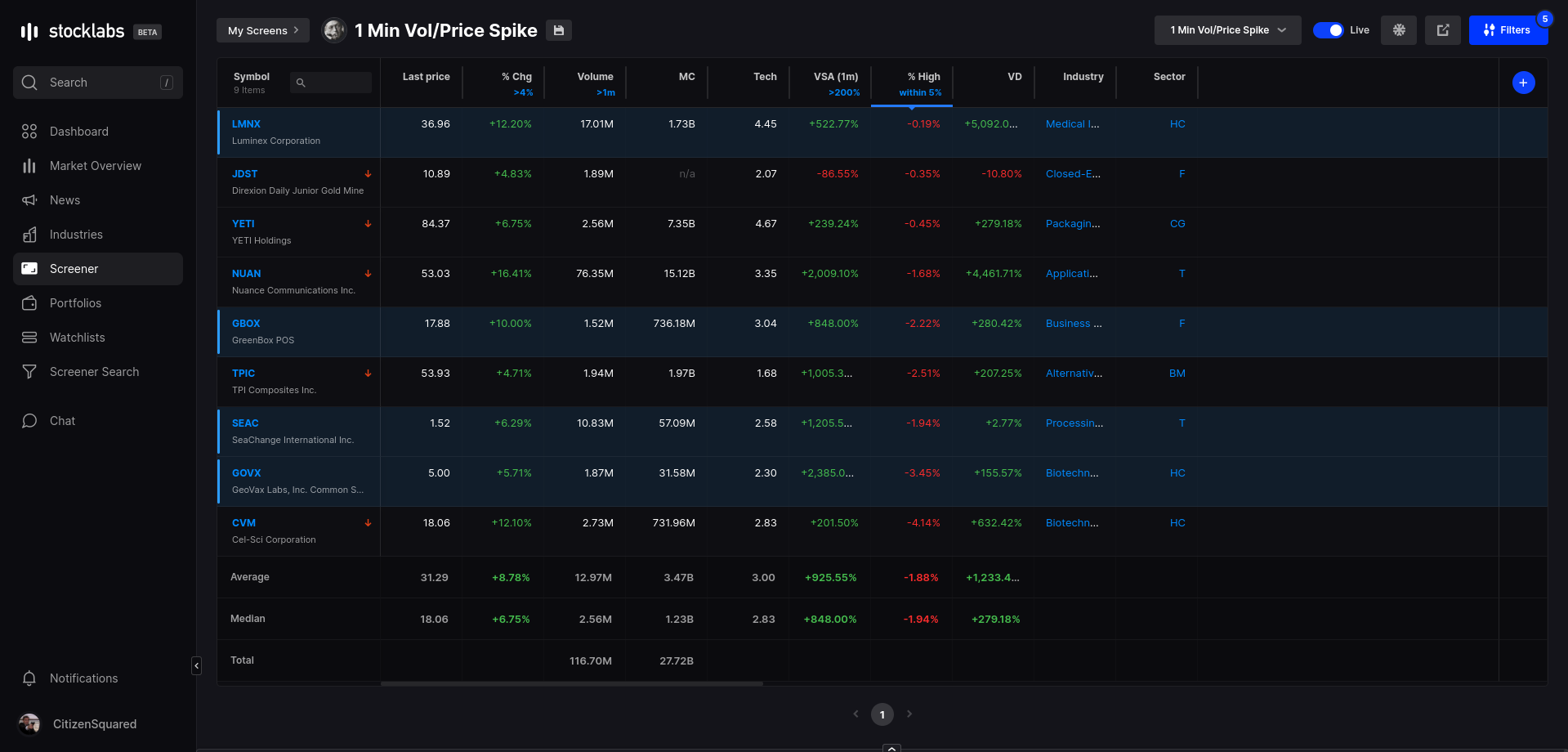 Volume Surge Analyzer (VSA)
One of the new volume tools in Stocklabs is the Volume Surge Analyzer (VSA). This feature detects spikes in volume for a particular security & is available across 1 minute, 5 minute, 15 minute, & 30 minute periods. The calculation is done by tracking the current interval & measuring it against the average of the last 30 periods. For example, if a stock has been trading 5000 shares/min & just traded 10000 shares in a minute, VSA will be +100%. The feature is available in Screener & paired with Live functionality will have you seeing everything that is moving with volume behind it as it is happening.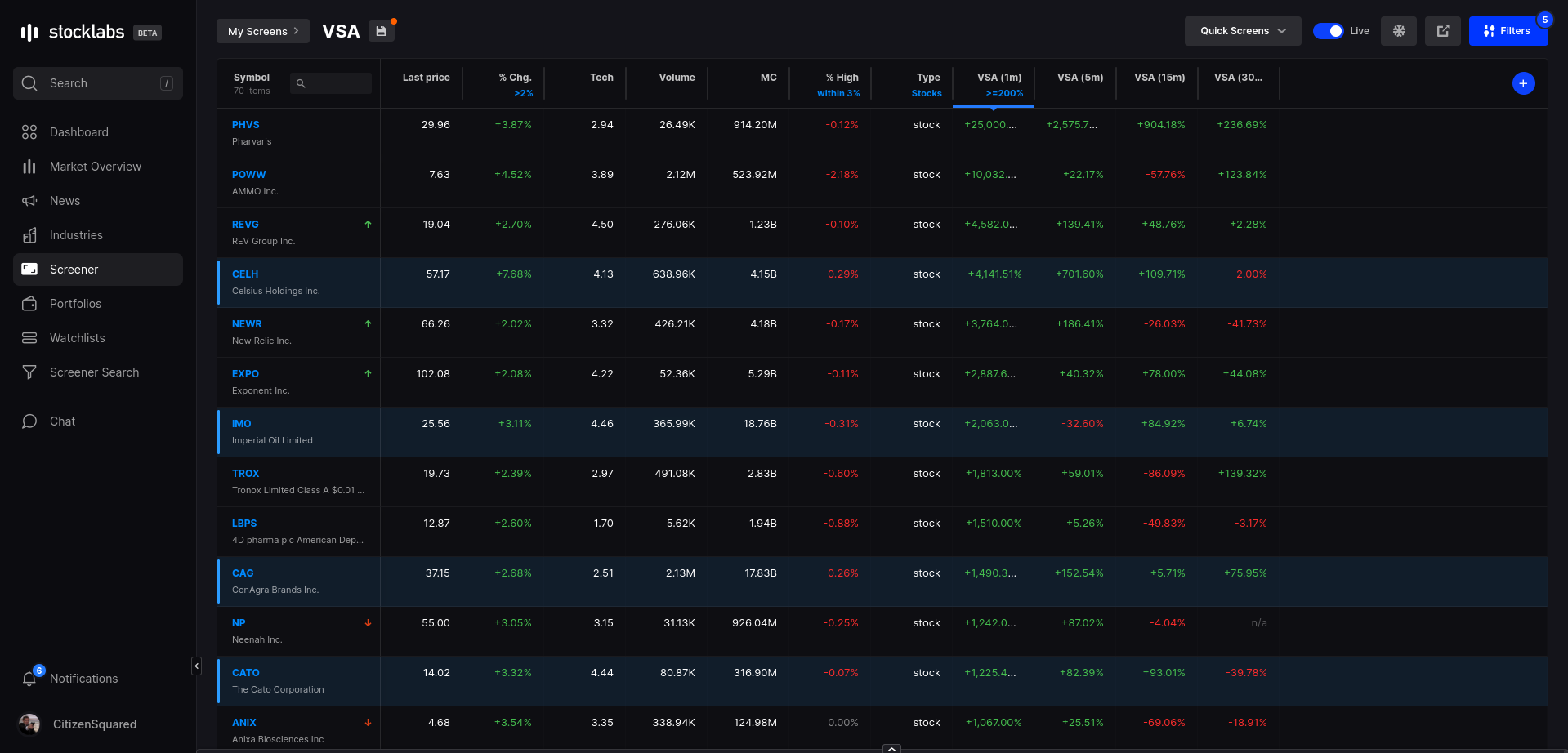 Volume Delta (VD)
The other new volume tool in Stocklabs, which is similar to VSA but is encompassing the change in share volume traded for the day, compared to the past. The calculation prorates the current day's volume down to the minute & compares it to the prior 30 day's average to arrive at its value. For example, if a stock normally trades 1,000,000 shares per day & at 11:30amEST it is on pace to trade 3,000,000 shares, VD% will read +200%. This should also be paired with the Live screen functionality so that results inside the screen are current with real time calculations.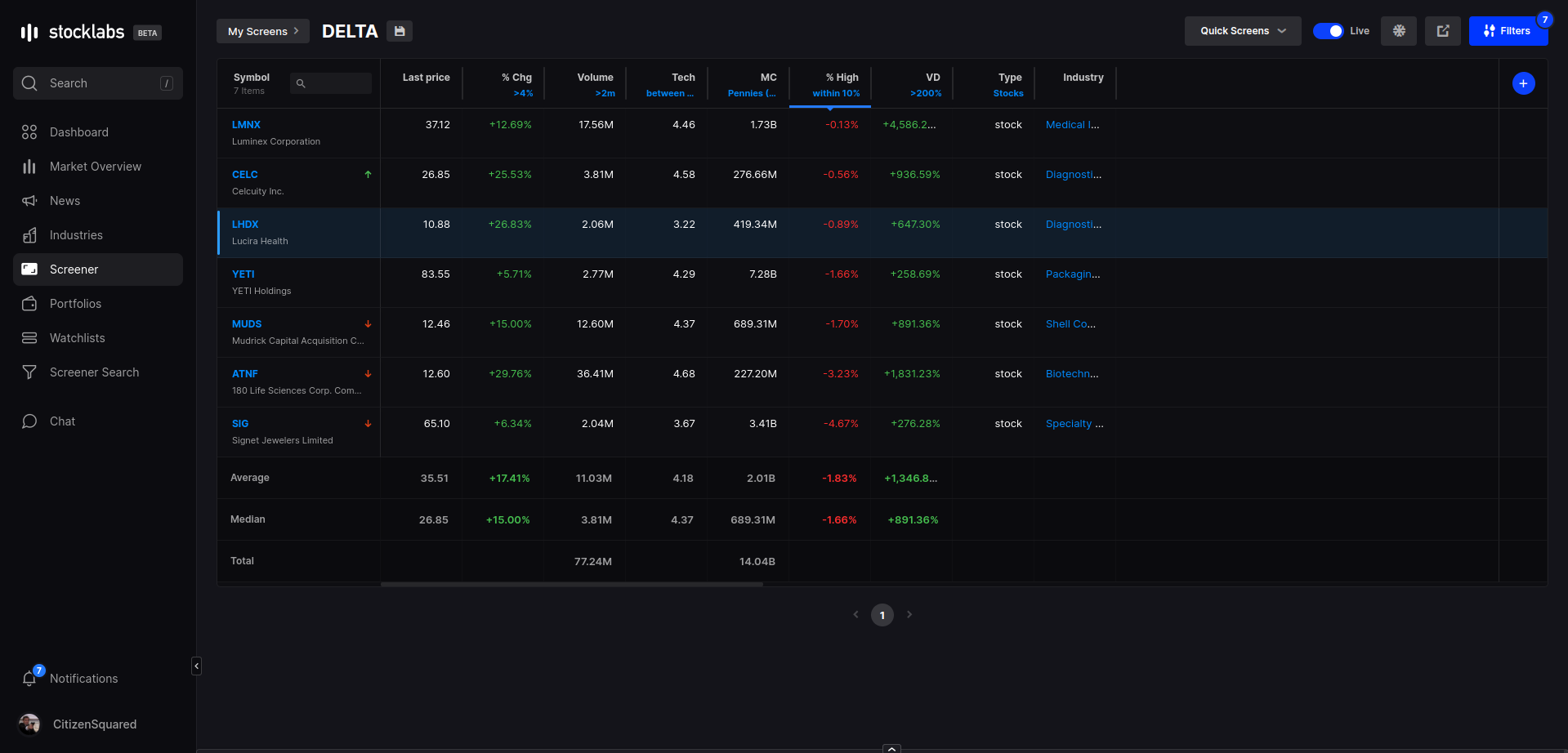 Click around the rest of the FAQ for discussions on Real Time Intelligence, Portfolios, & other features available that give you more insight & control over your trading. Try these out & see you inside Stocklabs.