Tech & Hybrid Scores
The basis of Stocklabs ranking system for each ticker has always been the Tech & Hybrid Scores assigned to each stock throughout the day. The Tech Score is determined by factors such as Accumulation / Distribution, Price Performance, Relative Strength, Volatility, & Volume. The Hybrid Score is derived from combining the Tech Score with the Fundamental Score. Fundamental Scores are comprised of Key Stats such as Debt / Market Cap, PEG Ratio, Price / Book, Price / Sales, & Profit Margin. Each of these scores are calculated real time in Stocklabs to provide a snapshot of how a stock is behaving as well as its financial health, & can be found under the Algo tab of any stock or ETF in Stocklabs (ETFs will not provide Hybrid Scores as they are simply financial instruments).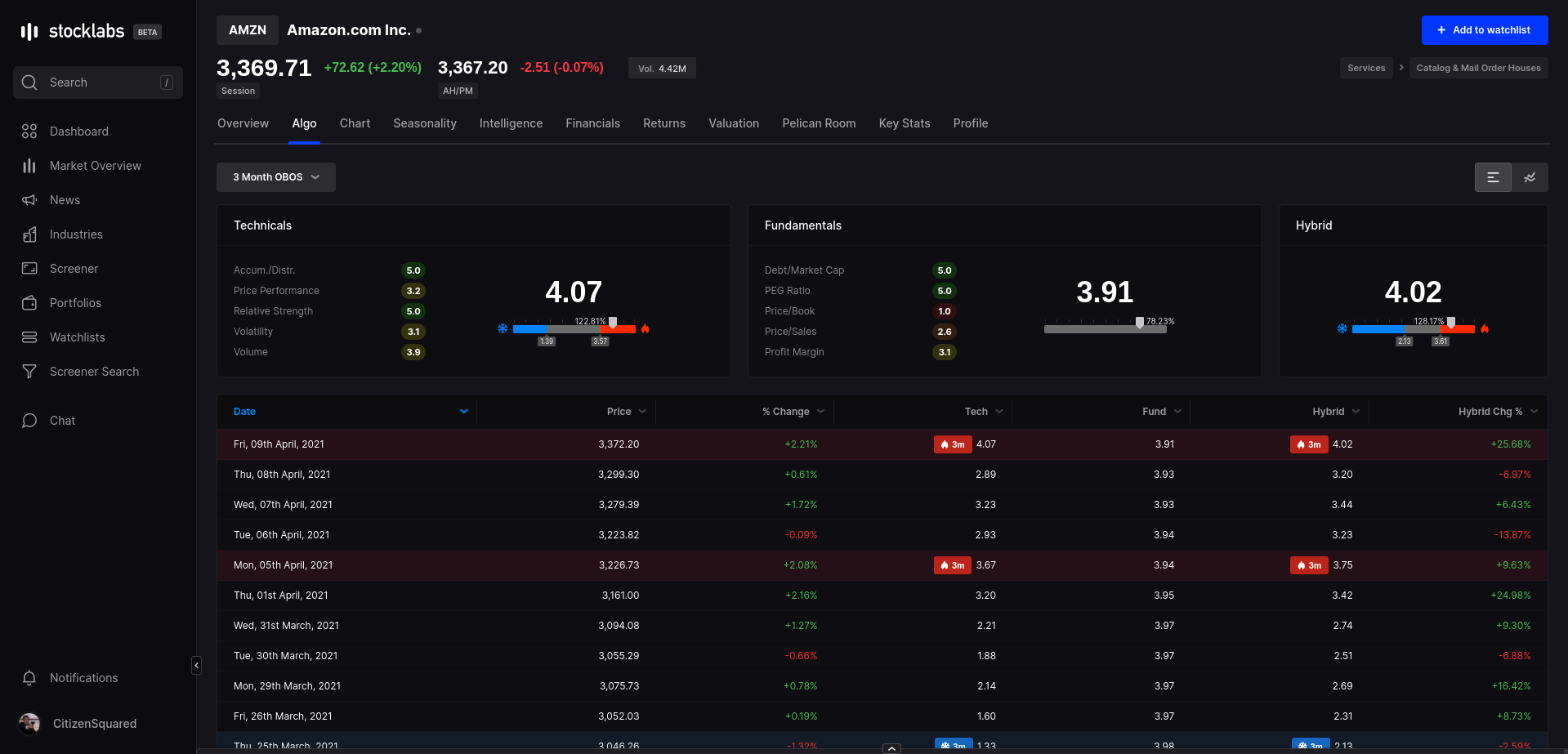 Hovering the mouse over any criterion will display a more detailed explanation of the particular metric.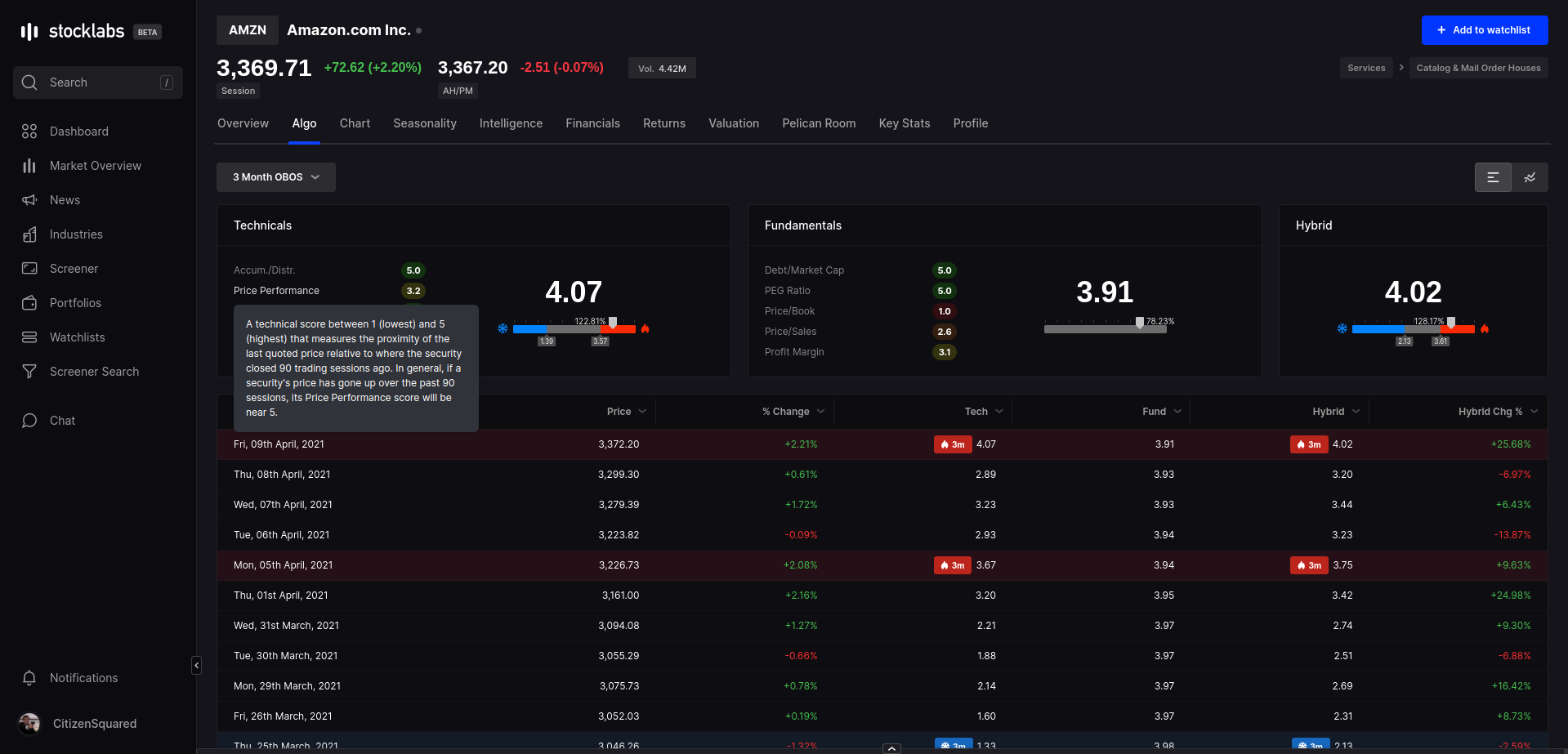 Stocklabs Advanced Algorithm (SAA)
If the Tech & Hybrid Scores are a snapshot of a stock's condition at a particular time, the brand new to Stocklabs feature SAA is what these scores looked like over different timeframes. The higher the SAA score the better trajectory the stock has been over the time period being investigated. SAA scores can be found on a stock's Key Stats tab by selecting Algo.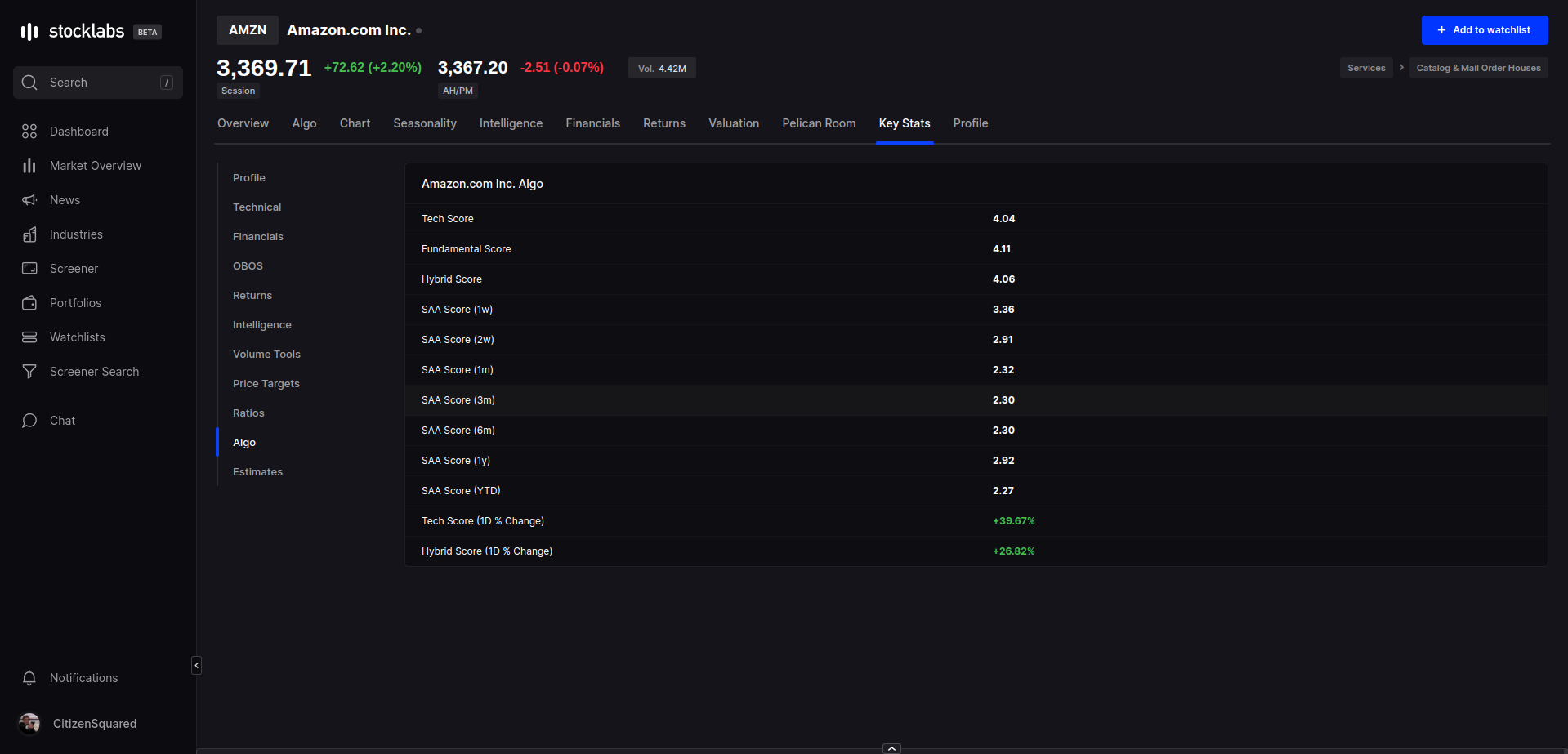 SAA is also available inside Screener as 1 week, 2 week, 1 month, 3 month, 6 month, 1 year, & YTD options.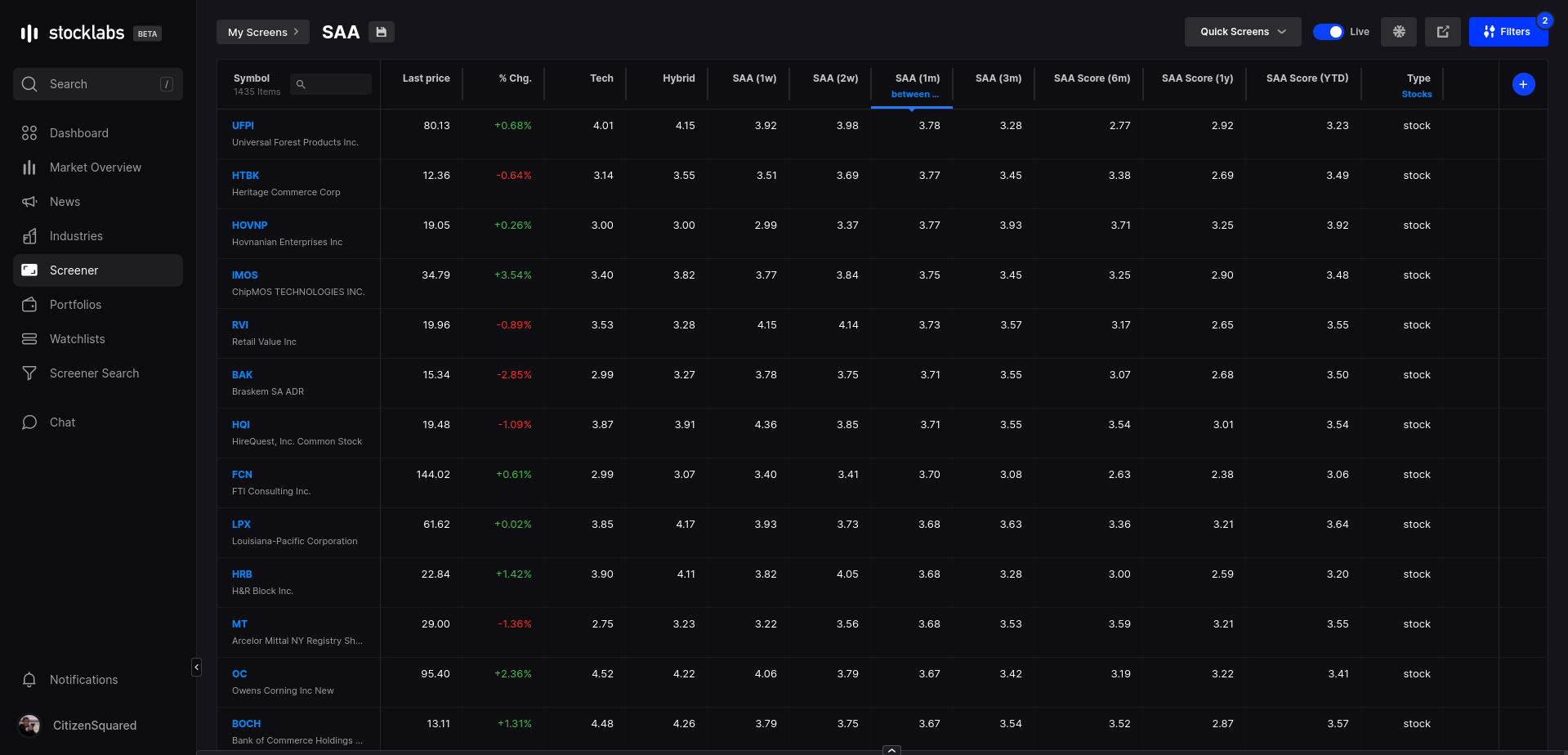 How should I use it?
Include SAA in your screens to help narrow down results to a set that is more likely to perform better over the longer term.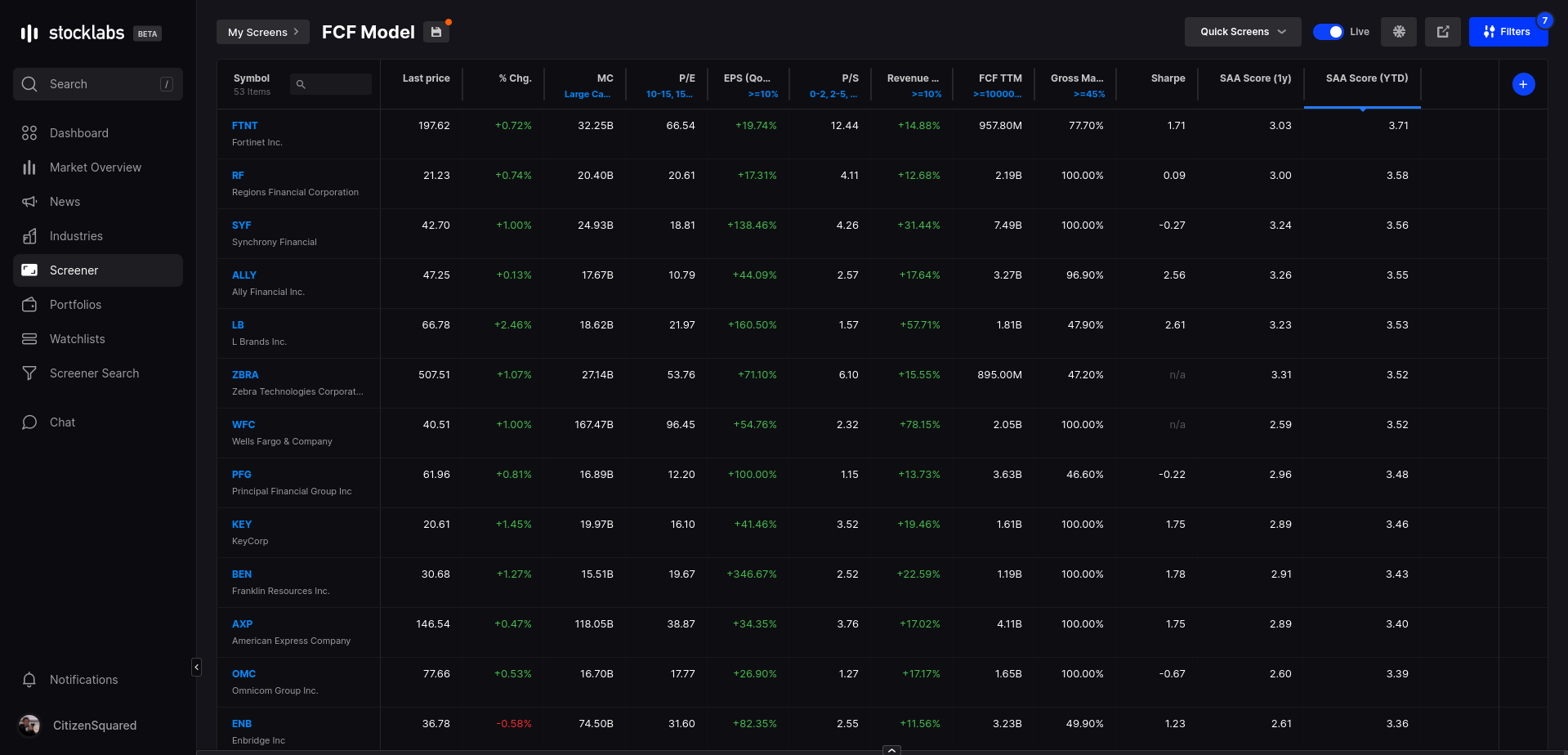 This powerful tool is a step up from traditional Tech & Hybrid Scores sure to provide valuable insight for how to be best positioned moving forward. Try it out for yourself & see you inside Stocklabs.